How to Meditate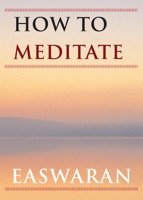 How to Meditate Book Details
By Eknath Easwaran
Category: Spirituality, Books, Health, Mind & Body, Self-Improvement, Health & Fitness

Type: ebook
Release Date: 2011-06-24
Author: Eknath Easwaran
Book Ratings:

4.5

/5 (

21

User Reviews)
How to Meditate Overview
Would you like better concentration, more vitality and creativity, more patience and inner strength?

Daily meditation can help you develop these qualities. Easwaran taught meditation for over forty years, and his instructions are practical and clear. He shows you how to choose a spiritual text, or passage, from the world's great traditions that embodies your highest ideals. With regular practice, meditation becomes your lifeline, taking you to the source of wisdom deep within and guiding you through all the challenges of daily life.

Easwaran is one of the twentieth century's great spiritual teachers and an authentic guide to timeless wisdom. His class at the University of California, Berkeley was the first accredited course on meditation at any Western university. He is the author of the best-selling translation in English of the Bhagavad Gita, India's best-known scripture.

This short ebook is the first chapter "Meditation on a Passage" from the book Passage Meditation – A Complete Spiritual Practice by Eknath Easwaran.
1301 Comments
---
Member ID : AXZ70705PUQ

Basically, I loved this book. I give the book 5/5 Stars, and this one is getting added to my All-Time Favorites list!

Member ID : AXZ84350PUQ

Before I read How to Meditate, I had read some reviews which had me wondering if this one would be something I'd like, reviews from people whose opinions I trust. It's True, so How to Meditate stayed on my "TBR Someday".



Member ID : AXZ13644PUQ

When I started this book, I wasn't so sure how much I would enjoy it. but reading from Eknath Easwaran's point of view was so refreshing.

Member ID : AXZ82246PUQ

Eknath Easwaran es uno de los mejores autores nacidos. How to Meditate es un libro interesante.

You Need LOGIN To Read More Comments...